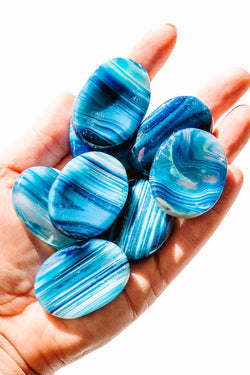 Apothecary Company
Lemurian Aquatine Calcite
Also known as blue onyx, Lemurian calcite is one of the best crystals for spiritual expansion.
By clearing away fears of self-expression and anxiety, this stone is thought to vibrate at the same frequency as beings with a high level of consciousness so that we may come to know our truest selves.
D E S C R I P T I O N:
These unique pieces were hand-selected, cleared, and infused with Reiki energy to amplify their power.
Each stone is unique and hand-selected for its beauty and vibrational energy. Size and color will vary slightly. Each piece is approximately 2" wide.