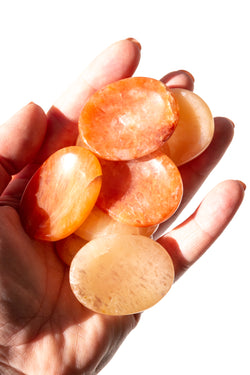 Apothecary Company
Peach Aventurine Worry Stones
A V E N T U R I N E:
A stone of perseverance, aventurine is thought to bring about prosperity, reinforce qualities of leadership, and help promote enthusiasm for the task at hand.

This gem may be wonderful for providing clarity of purpose and intention as well as focus and concentration. This stone reminds us that we need to fully trust the magical and rewarding process of life.
D E S C R I P T I O N:
Each stone is unique and hand-selected for its beauty and vibrational energy and infused with Reiki energy to amplify its power. . Size and color will vary slightly. Each stone is approximately 1.5" in length.