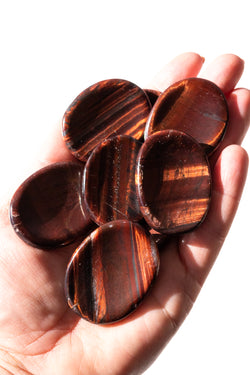 Apothecary Company
Red Tiger's Eye Worry Stone
T I G E R S  E Y E:
A power-enhancing stone, tiger's eye is wonderful for balancing the solar plexus. This stone is known to bring good luck to those who are willing to put in the hard work.
It is one of the best crystals for clearing away self-doubt, manifesting wealth, and stepping into your personal power.  Tiger's eye rewards those who are as determined as a powerful tiger to bring their dreams into reality.
D E S C R I P T I O N:
These unique pieces were hand-selected, cleared, and infused with Reiki energy to amplify their power.
Each stone is unique and hand-selected for its beauty and vibrational energy. Size and color will vary slightly. Each piece is approximately 2" wide.