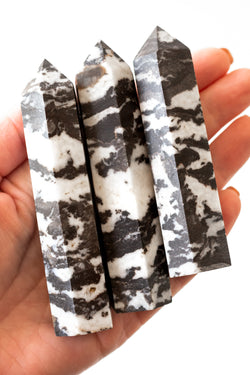 Apothecary Company
Zebra Jasper Point
Z E B R A  J A S P E R:
A protection stone, zebra jasper is wonderful for traveling and using in the entryway of a home for filtering out negative energy. 
With its juxtaposition of both light and dark, zebra jasper is thought to protect us from the chaotic energy of those we may encounter throughout our journey.
D E S C R I P T I O N:
These unique pieces were hand-selected, cleared, and infused with Reiki energy to amplify their power.
Each stone is unique and hand-selected for its beauty and vibrational energy. Size and color will vary slightly. Each piece is approximately 3" high x 1" wide.