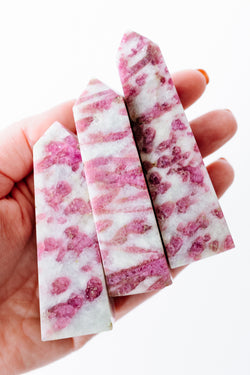 Apothecary Company
Pink Tourmaline Crystal Point
P I N K  T O U R M A L I N E:
An ancient stone of both wisdom and truth, pink tourmaline helps us to identify issues that we need to work through and then move forward into peace, love, and harmony.
Once used in the early days of acupuncture as needles for energetic treatments, tourmaline remains a profound modality for change and moving forward through negativity.
D E S C R I P T I O N:
These unique crystal points were hand-selected, cleared, and infused with Reiki energy to amplify their power. 
Each stone is unique and hand-selected for its beauty and vibrational energy. Size and color will vary slightly. Each stone is approximately 3.25" in length.