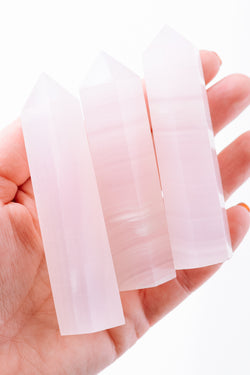 Apothecary Company
Pink Calcite Point
P I N K  C A L C I T E:
Pink calcite is thought to strengthen willpower, enhance relaxation, and improve astral traveling abilities. This is also a great stone for those wishing to work in energy healing and who want to deepen their meditation practice

These unique pieces were hand-selected, cleared, and infused with Reiki energy to amplify their power. Hold the stone over your heart as you release feelings of stress, worry, tension, or heartache.

D E S C R I P T I O N:
Each stone is unique and hand-selected for beauty and its vibrational energy. Size and color will vary slightly. Each stone is approximately 2.5" in length.