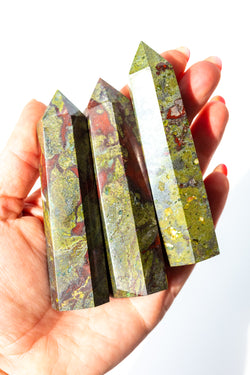 Apothecary Company
Dragon's Blood Point
An excellent stone for eliminating fear and anxiety, bloodstone is through to connect you with nature and plant spirits. This stone instills humility by remembering that we are all one, with similar emotions and experiences.
It is one of the quintessential stones for connecting you with your inner wisdom and listening to the quiet voice within your heart.

This stone is also wonderful for grounding, inspiring courage, and connecting deeply to the heart chakra.
This unique piece was hand-selected, cleared, and infused with Reiki energy to amplify its power.
Each stone is unique and hand-selected for its beauty and vibrational energy. Size and color will vary slightly. Each piece is approximately 2.5" in length.