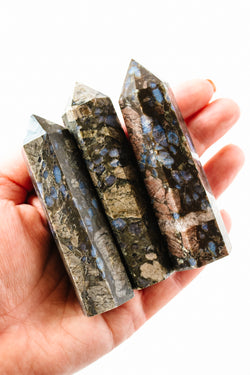 Apothecary Company
Glaucophane Crystal Point
G L A U C O P H A N E:
An excellent stone for developing psychic tendencies and enhancing prophetic gifts. With colors of blue, gray, and black, this stone is also wonderful for grounding, protection, and connecting deeply to the root and throat chakras.
D E S C R I P T I O N:
These unique pieces were hand-selected, cleared, and infused with Reiki energy to amplify their power.
Each stone is unique and hand-selected for its beauty and vibrational energy. Size and color will vary slightly. Each stone is approximately 3.25" in length.