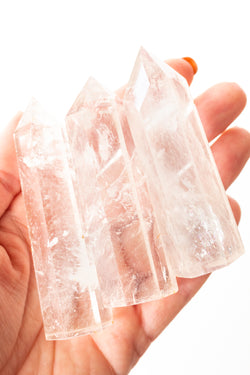 Apothecary Company
Clear Quartz Crystal Point
C L E A R  Q U A R T Z:
Clear quartz is thought to aid in cleansing and protecting the auric field and is often used to clear the energy of other crystals. Thought to amplify the properties of other stones as well as being a universal clearing stone, this is a great crystal for beginners who are just starting their collections.
D E S C R I P T I O N:
These unique pieces were hand-selected, cleared and infused with Reiki energy to amplify their power. These particular pieces have multiple striations, making them wonderful manifesting stones. The pointed shape is excellent for amplifying intentions.
Each stone is unique and hand-selected for beauty and it's vibrational energy. These stones are approximately 2.5' in length.