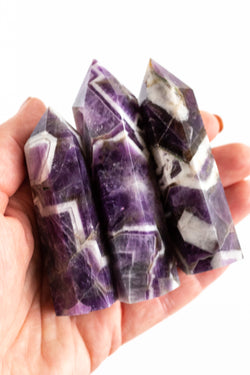 Apothecary Company
Chevron Dream Amethyst Point
C H E V R O N  A M E T H Y S T:
Also known as "dream amethyst," chevron amethyst allows us to connect more deeply with ourselves and in turn, connect on a deeper level of humanity with others.
A protecting and intuition-enhancing stone, amethyst is wonderful for balancing the crown chakra. It is one of the best crystals for enhancing psychic abilities and increasing lucid dreaming.
This stone is also wonderful for balancing the physical environment, protecting from negative energy, calming the mind, and bringing peace into the home.
D E S C R I P T I O N:
These unique crystal towers were hand-selected, cleared, and infused with Reiki energy to amplify their power.
Hold the stone in the middle of your abdomen where your ribs meet as you let the stone absorb and transmute your insecurities and make way for deeper human connections.
Each stone is unique and hand-selected for its beauty and vibrational energy. Size and color will vary slightly. Each stone is approximately 3" in length.