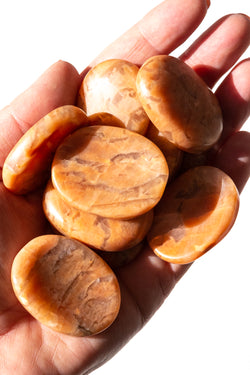 Apothecary Company
Peach Moonstone Worry Stones
P E A C H  M O O N S T O N E:
Moonstone may help us to feel safer during times of transition. Peach moonstone has an especially strong feminine energy making it especially useful during emotional transitions such as birth, postpartum, or menopause.
The demands of the world are heavy, especially the ever-changing role of the feminine and the limitless expectations imparted upon women in this century. This stone may provide some soothing and solace for those struggling to make sense of it all.
D E S C R I P T I O N:
These unique pieces were hand-selected, cleared, and infused with Reiki energy to amplify their power.
Hold this stone during meditation or keep it near while sleeping to support this clearing effect. Be sure to cleanse it under running water regularly to help disperse those energies.

Each stone is unique and hand-selected for its beauty and vibrational energy. Size and color will vary slightly. Each stone is approximately 1.5" in length.