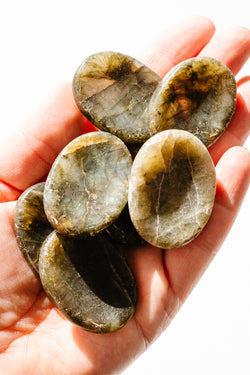 Apothecary Company
Labradorite Worry Stones
This glimmering stone is thought to bring out the warmth in a person's personality and to help introverted people feel more animated and engaged in public settings by strengthening their inner intuition.
These unique pieces were hand-selected, cleared, and infused with Reiki energy to amplify their power. Worry stones allow you to rub your thumb into the stone as you let the stone absorb and transmute your worries away.
Each stone is unique and hand-selected for its beauty and vibrational energy. Size and color will vary slightly. Each piece is approximately 1.5" in length.