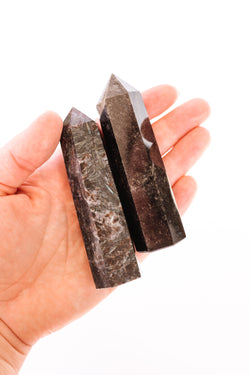 Apothecary Company
Astrophyllite Crystal Point
This glimmering stone is thought to be a "gateway to the stars" and to light the way for understanding by expanding consciousness and enabling us to see between the layers of reality.

A stone of feminine energy that literally means "star leaf," this is an excellent stone for enhancing perception.
These unique pieces were hand-selected, cleared, and infused with Reiki energy to amplify their power.
Each stone is unique and hand-selected for its beauty and vibrational energy. Size and color will vary slightly. Each piece is approximately 3" in length.