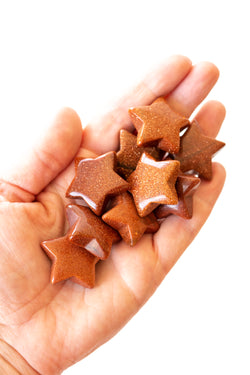 Apothecary Company
Goldstone Sparkling Stars
G O L D S T O N E:
Known as the stone of ambition, goldstone is said to build courage and reward those who are willing to put in the hard work.
With the energy of copper and the radiance of the sun, this stone is thought to aid in manifesting wealth and stepping into your own personal power with confidence. 
D E S C R I P T I O N:
These unique pieces were hand-selected, cleared, and infused with Reiki energy to amplify their power.
Each stone is unique and hand-selected for its beauty and vibrational energy. Size and color will vary slightly. Each piece is approximately 1" wide.