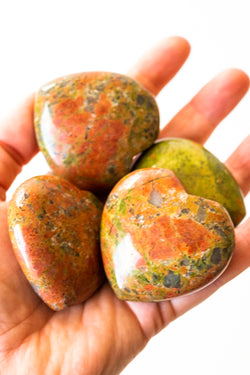 Apothecary Company
Unakite Heart
U N A K I T E:
Unakite is thought to be helpful in battling overwhelm and for those prone to overanalyzing from all angles. Have you been struggling to live up to all of the expectations placed upon you, whether by others or by yourself? Unakite may be just the soothing stone that you need in your life.
D E S C R I P T I O N:
These unique pieces were hand-selected, cleared and infused with Reiki energy to amplify their power. Hold the stone over your heart as you let the stone absorb and transmute your worries and heartache away.
Each stone is unique and hand-selected for its beauty and vibrational energy. Size and color will vary slightly. Each stone is approximately 2" in length.