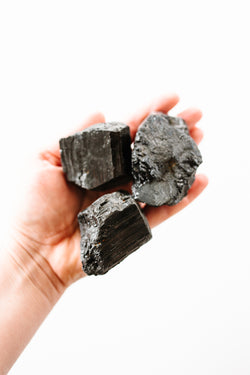 Apothecary Company
Raw Black Tourmaline Chunk
B L A C K   T O U R M A L I N E:
Black tourmaline is one of the very best stones for protecting yourself from dark energies. It is thought to be a cleansing stone, deflecting and transmuting negative energy. It is also believed to be a great stone for transmuting the EMF energies of electronic devices such as cell phones and computers. It is believed to repel and protect from black magic, bad intentions, and negative energy.
Key Benefits
Black Tourmaline is necessary for any crystal lover's magical repertoire. These unique stones were hand-selected and infused with healing Reiki energy.
Directions
Hold either stone in your hand for five minutes while taking deep breaths to ground yourself and restore the energy within your body. Great to use when you're feeling overwhelmed, when you're on electronic overload, when you need to energetically detox from large groups of people, or when you need to clear your mind and become re-centered and grounded.
Information
Each stone is unique. Size and color may vary slightly.