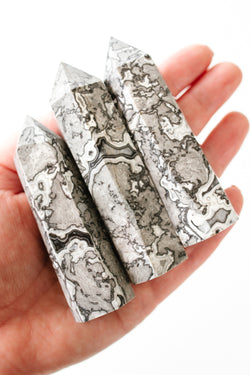 Apothecary Company
Picasso Jasper Point
P I C A S S O  J A S P E R:
A stone full of powerfully supportive energy, Picasso jasper has a beautiful marbled appearance, almost like brush strokes. This stone is thought to be helpful for cleansing away unwanted energy.
D E S C R I P T I O N:
These unique pieces were hand-selected, cleared, and infused with Reiki energy to amplify their power. The pointed shape is excellent for amplifying intentions.
Each stone is unique and hand-selected for beauty and its vibrational energy. Size and color will vary slightly. Each stone is approximately 2.5" in length.