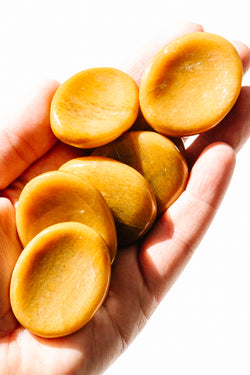 Apothecary Company
Yellow Jade Worry Stones
Yellow jade represents loyalty to oneself as well as to the order of life. It may provide harmony within the home with respect to these values and in keeping true to one's own heart.
An excellent stone to have on hand during life transitions such as graduations and new marriages or partnerships. In starting an important new chapter, honoring and staying true to oneself may prove to be an important part of the process.
These unique pieces were hand-selected, cleared, and infused with Reiki energy to amplify their power. Worry stones allow you to rub your thumb into the stone as you let the stone absorb and transmute your worries away.
Each stone is unique and hand-selected for its beauty and vibrational energy. Size and color will vary slightly. Each piece is approximately 2" in length.