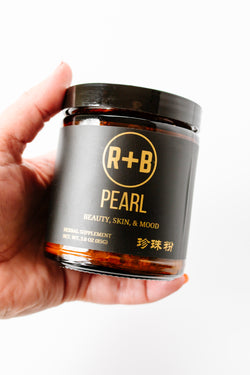 Calcium-rich freshwater pearls help to support radiance and vitality both inside and outside.
Pearl Powder is a legendary beauty tonic in Traditional Chinese Medicine. Pearl's rare nutritional profile supports the repair, rejuvenation, and regeneration of skin cells.
Pearl was made especially famous as a beauty tonic that is rich in calcium, zinc, iron, selenium, amino acids, and the antioxidants superoxide dismutase (SOD) and glutathione. It can help to heal wounds, boost collagen production, regenerate tissue, and prevent and repair free radical damage to the skin.
Our Pearl Powder is made from nano ground sustainable freshwater pearls.
*Please note that products are sold based on weight not volume. This is a 3 oz container of pearl powder, it is normal that the jar is not filled to the brim. 
Directions
Add one serving to any warm tea, milk, or coffee. Take daily or as needed. 
Ingredients
Freshwater pearl powder
Information and statements about this product have not been approved by the FDA and are not intended to diagnose, treat or prevent disease. Purchaser assumes all risk of usage.
Information

Net weight 3 oz. Please consult a doctor before use.