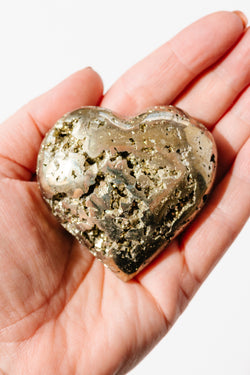 Apothecary Company
Pyrite Crystal Heart
P Y R I T E:
A protective stone, pyrite is wonderful for balancing the solar plexus chakra. It is the quintessential stone of luck and is great for manifesting abundance and health.
This stone is also wonderful for developing self-love, boosting confidence and harnessing your personal power.
D E S C R I P T I O N:
This unique piece was hand-selected, cleared, and infused with Reiki energy to amplify its power. This particular piece is a stunning sphere with a unique sparkling interior that is well-exposed. Pyrite is known as an amplifying crystal. 
Each stone is unique and hand-selected for beauty and its vibrational energy. Size and color will vary slightly. These pieces are approximately 2.5" x 2.5" x 1".