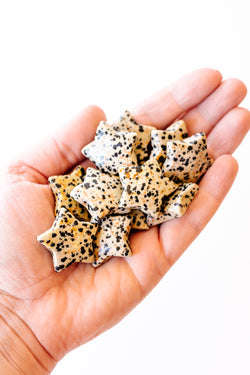 Apothecary Company
Dalmatian Jasper Crystal Stars
An excellent stone to accompany you on your travels and for protecting the home, dalmatian jasper is through to filter the chaotic energy of those we may encounter on our journey of life.
Place a small bowl filled with these stones on a side table or entryway that receives a lot of traffic and be sure to cleanse under running water regularly to assist in clearing these energies away.
These unique pieces were hand-selected, cleared, and infused with Reiki energy to amplify their power.
Each stone is unique and hand-selected for its beauty and vibrational energy. Size and color will vary slightly. Each piece is approximately 1" in length.